SHARP EDGE EYE LINER
Size : 0.9cm x 12.6cm x 0.9cm
Weight : 6g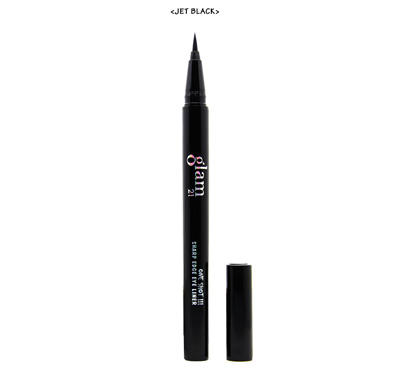 Effect & Function
01. One-shot finish to draw eyeline with just a tiny brush hair pen.
02. Long lasting, No smudge with multi proof.
03. Finish to draw clear eyeline with high gloss, deep black color!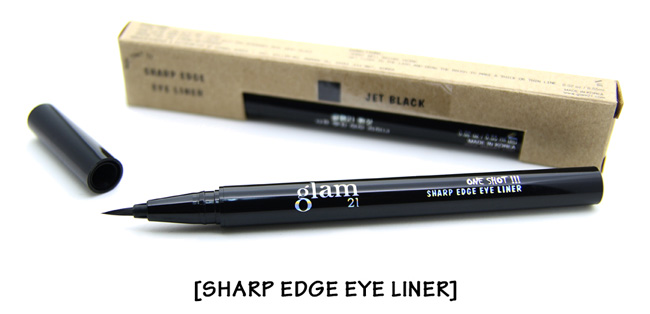 How to use
01. When you draw natural eyeline
Pu the brush onto your eye skin, fill the space in your eyelashes by drawing.
02. When you draw sharp and clear eyeline
You can express more clear and sharp eyeline by drawing like hainv slanted eyes, especially fill the small point that you can see by picking your eyelid up.
Recommendation
01. A person who want cleansing product with no smudge, easy-drawing.
02. A person who wnat to prevent your eyeline from smudging due to water, sweat and other pollutant.
Features
01. Easy to draw the various eye lines
Get the natural and sexy eye line by using the flexible brush to create a thick or thin tapered it.
02. Deep black color
Even only one touch, you can draw intense eye lines with DEEP BLACK COLOR ingrediented Carbon
03. Strong waterproof
you can draw clean eye line with our waterproof and smudge-free item in the pool or beach on summer. Don't need to ahve panda eyes by using the glam21 one shot sharp edge eye liner.
04. Super quality and reasonable price
We made the great quality eye liners that can be comparable with other brand products. Get it with the AWESOME price!!